Healthy and easy
Smoothie Recipes
Smoothies-chop & blend
Smoothies are a great way to get your daily dose of vitamins and minerals in a glass. No need for tablets and pills, just chop and blend. Use any assortment of fruits and veggies to blend up a delicious, healthy snack that will deliver an energy boost. The fiber contained in the blend will keep you feeling satiated for some time. Get your kids on board with their 5-a-day intake. Mine love to help in the preparation of chopping. When they get to choose their favourite ingredients, they are more inclined to drink it. All you need is a good blender. Share the love. Store them for up to 24h in the fridge or freeze them for later.
If you like the recipes below and would like to know more then contact me for more information.
Left-over Fruit Box
When the kids arrive home from school and they haven't eaten their fruit, why not throw it in the blender. Yes it may have discoloured a bit but the goodness is still trapped in the fruit. In this case:
– left-over banana (kid #1) and apple (kid #2)
– frozen passion fruit and mango
– pommegranate seeds
– chopped coconut
– blood-orange juice
– water
– honey
 Serves: 2
Autumn-immune system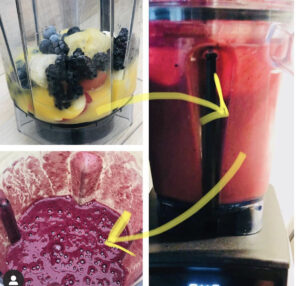 With autumnal temperatures and weather already upon us in Nth. Europe it is important to maintain a healthy immune system. This is a simple recipe to do that. Lots of vitamin C. Enjoy.
– one apple,
– one banana,
– one yellow kiwi,
– one handful mix of hand-picked wild blue berries and wild blackberries (from bushes along on the street here and frozen so they will make the drink cold).
– Dilute with 300 ml of a 50:50 mix of fresh OJ and water.
– blend on high for 45 sec
Serves: 2
Saturday Sunshine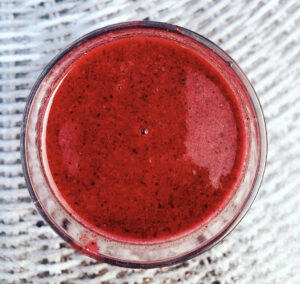 Sunsine in a glass. This vibrantly coloured smoothie is packed with vitamin C and anti-oxidants. Buying frozen fruit from the shop is a great (and economical) way to ensure you always have fruit at hand. No need to defrost. Just dump and pump. 
– a hanful each of frozen: Raspberries, blueberries, mango, passion fruit
– and a smidgeon of natural maple syrup
– Dilute with 300 ml 50:50 mix OJ, water
– blend high for 60 s
Serves: 4
The no-chocolate, chocolate smoothie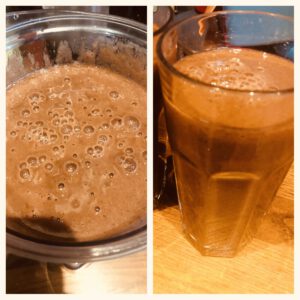 The kids will think its chocolate but its not!! But by the time they have tasted it, they wont care. Its Y-U-M-M-Y!!
– Half bag of fresh spinach leaves
– handful each of fresh blackberries and raspberries
– one pear
– one kiwi
– half apple
– 100 ml OJ
– 200 ml H2O
– ice cubes to chill.
– blend on high for 45s, pour and enjoy.
Serves: 4
The Fruit and Veg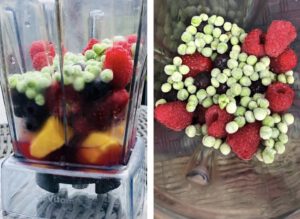 A bit of this, a bit of that.
– Mango
– Blueberries
– Raspberries
– Strawberries
– Garden peas (yes….peas, they give a nice texture)
– banana (added later so the kids will drink it)
– water to dilute
– blend for 30 s
Serves: 2
Six for 6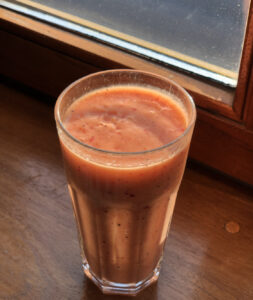 After watching the chef in Ratatouille chop vegetables at high speed, my 6-year old was inspired to spend a day in the kitchen. Before baking a banana cake he surprised me with this beauty. A mix of six fruits, diligently chopped to his culinary standards.
– one mango, one apple, one plum
– one banana (sliced at high speed!!)
– frozen passion fruit
– one blood orange
– diluted with fresh OJ and water
Not sure how long he blended it but it was bloody good. Trés biens  "little chef".
Serves: 4
Iced-coffee Breakfast Recovery Blend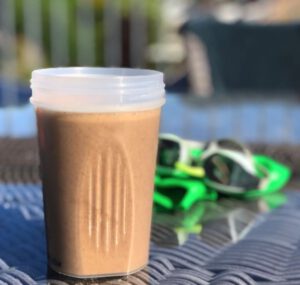 I love this one after a morning swim session. A good recovery drink providing carbohydrates to refuel muscle glycogen and protein for muscle protein synthesis and repair. Once you have added the ingredients below to your blender, add in a cup of freshly brewed strong coffee and allow it to soak for 5 min. Then dilute to 500 ml with water and add a hanful of ice cubes to cool. Blend for 60 s on high. Pour and savour this rich textured coffee delight.
– 50 g porridge oats
– 2 tspn Chia seeds
– 2 tspn ground flax seeds
– 1 tspn cacao nibs
– 1 tspn Macha powder
– 1 scoop Whey protein powder
Serves: 1
Immune Booster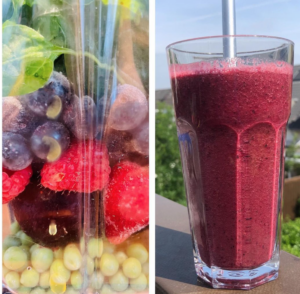 Once you have added the ingredients below, dilute with 150 ml orange juice and 150 ml water. I use frozen berries which chill the mix but if using fresh fruit, ice is optional.
– fresh peas
– beetroot
– strawberries
– raspberries
– blueberries
– spinach leaves
– honey
– blend for 60 s
Serves: 2
Kids Classic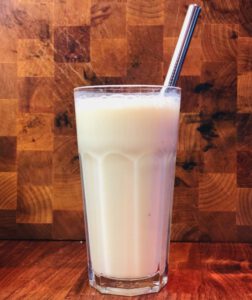 The classic banana milk shake. Rich in protein, potassium, calcium and vitamins B2 (riboflavin) and B12. B-vitamins are important for healthy liver, skin, hair and eyes and promote the healthy function of the nervous system.
– two large ripe banana (bits of brown skin)
– 400 ml fresh milk
– 1 tbspn honey
– Blend 45 s
Serves: 2
What you need
It's pretty simple. You will need a chopping board and a good knife to cut larger fruits like apple into slices. Its easier on the blades that way. Of course a blender will help. I use a Vitamix Professional Series 750. This uses aviation grade steel in the blades….they don't blunt. Then I recommend to use smoothie straws. These are wide metal re-useable straws that are great if the smoothie is a littlle on the thick side. They are also dishwasher friendly. Finally, a few large sealable drinking containers will allow you to store the excess in the fridge without the risk of spillage.
Blending vs. Juicing
Blending will break down the plant cell wall allowing all the nutritional goodness to be more easily absorbed and digested in the body. The fiber remains intact. This will reduce sugar absorption, preventing an energy spike and providing a more stable energy boost. It will also keep you feeling satiated for longer. With blending there is little in the way of left-over waste since almost everything is blended to a pulp.
Juicing on the otherhand provides a more refreshing drink, free of "bits". Here the fiber is removed from the fruit and the sugars are more rapidly absorbed into the bloodstream. This will provided an energy boost. However, juicing needs prep work and there is much more cleaning afterwards.
Packing your blender
If you use a standard blender then the best way to pack it is from bottom to top as follows. Start with the flimsy leafy stuff closest to the blades. Then add in the liquid to help get these mixed so they don't stick to the side of the blender. Next add in your fruit and veggies of choice. These will weight down the flimsy leafy ingredients. If you use seeds, powders or nut butters, they should be added next. Finally add in the frozen fruits and ice. Be sure to put the lid back on and make sure the peep hole is secure.
Benefits
Many people find it difficult to get there recommended daily intake of fruit and veg. Smoothies are a fantastic way to do this in less than 2 mins of prep work. Drinking a smoothie a day will reduce bloatedness and constipation as the fiber will be sure to remove any items blocking the tubes. The natural sugars will provide a healthy energy boost over processed sugars. The anti-oxidants will give your skin a healthy glow. Your brain will  be sharper and more focused. The plethora of essential vitamins and minerals will boost your immune system and the raw nutrients from the fruit and veg, in addition to the fiber, will keep you feeling fuller for longer, which can aid in weight loss.