Hi there, and welcome to the Primal Endurance Coaching website. My name is David Cummins. Think of me as your new personal coach.
who am I
Irish through and through, I settled in the Netherlands in 2005 after some years traveling and living abroad. I hold a BSc and a PhD in chemistry and an MSc in Human Movement Sciences specialising in exercise physiology and sports nutrition to fuel performance. I am a qualified Sports Nutritionist, a certified IRONMAN Coach and swim coach for the local masters and youth swim squads. My Masters research thesis was in collaboration with the Dutch Triathlon Federation and Olympic Team. Needless to say, I have a research background, which has proved very beneficial in allowing me to stay on top of the latest sporting and nutrition research, as well as up-and-coming trends.  My training and nutritional advice is backed by science-based evidence.
My personal sporting background began as a junior international swimmer where I focused on 50 m free (24.2 s) and 100m free (56.9 s). I was a relay team member that broke two National freestyle records. At that time, and for many years, endurance sport was not my thing. I was extremely fit but could not manage a 5k run……it was too far for a sprinter.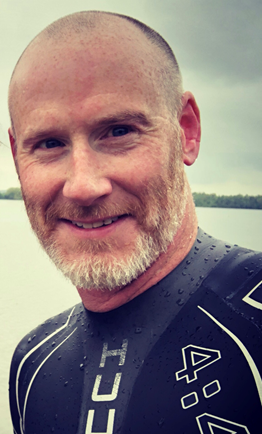 Following a back injury in 2006, I had to focus on re-building my strength and was encouraged to start running. My first goal was to race a local 5k.  The endorphins were a drug, and I wanted more. In 2007 I completed my first local sprint triathlon. I loved it, and like most people after their first triathlon, declared "I am never doing that again". The next day I signed up for an Olympic distance!! After multiple IRONMAN 70.3 races I finished my first IRONMAN in my hometown of Maastricht in 2015. And so, it began. My journey, and the idea to create Primal Endurance Coaching which founded in January 2016. I had a friend that wanted to run the Berlin marathon, and I offered to help her. It was a hobby that I did on top of my full-time job, but it inspired me. At that time I also supported coaching the local Master's Swim Team.
Coaching and helping others achieve their goals is the icing on the cake. This is what I do.
This is what I do well.
"Triathlon IS my passion; sport IS my passion"
I have now left the corporate world behind  to coach sport and nutrition full-time. I have built an energetic and devoted team that make it worth my while. 
Primal Endurance Coaching Philosophy
As a father, husband, athlete, business owner, coach, student and finisher of multiple IRONMAN and IRONMAN 70.3 races, I have a pretty good idea on what it takes to balance my time, set priorities and execute with quality. The foundation of Primal Endurance Coaching is to do the hard work for you. All you have to do is train. Consistency is the key to accomplishing your goal. I personalize plans around your schedule so that you can best accommodate the heavy load that life throws at you. That unexpected business trip abroad? No problem, we have multiple pilots in the group…they manage. Shift work disrupts routine?…No worries, I coach doctors and air traffic controllers. Everything is possible. Training will be an addition to your already busy work-life schedule, but through Primal Endurance Coaching it will all be balanced. You will learn to prepare in advance and that will carry through to your everyday life.
why not connect and we can begin the journey together, to your destination of choice.