Primal Endurance Coaching & Nutrition
Train smart race hard
Sports Nutritionist & Certified Triathlon Coach
Training Services
As a certified triathlon coach I will get you to the start of your event, strong and healthy. It is not about the quantity of work you do but about the quality of the training. I provide triathlon training based on periodised programs. These provide sufficient recovery periods that promote the necessary musculoskeletal and physiological adaptations following training.
As a qualified Human Movement Scientist and sports nutritionist I can support you in fuelling your body to improve performance, recovery and weight management. Consuming the right nutrition at the right times is critical to training and race performance, muscle repair and overall health and well-being.
In addition to Primal Endurance Coaching, I am also the Performance Nutritionist to the Watersley R&D Ladies U23 and U19 road cycling teams based in Sittard, NL and competing in the UCI elite level races in Europe.
Use the link below to discover the training package the best suits your needs and goals. Or click here to discover the Nutrition options available en-route to a healthier you.
Personalised Coaching
Tailor-made triathlon, marathon and cycling training plans that take the stress out of planning your training. Easily adaptable to fit around your busy work, family and social life.   Online and face-to-face coaching in Maastricht and surrounding areas. Choose your goal from the link below and let's connect.
Personal Consultation
One-on-one consultations to improve nutrition for sports performance, or just to lose those extra kilos that have been bothering you. Or maybe you need help to overcome the fear of open-water swimming. Check out the possibilities below.
Training Programs
Ready-made training plans to help you finish your first short distance or olympic distance triathlon or road race. The plans deliver a structured approach to get you to the start line, fit and healthy. And the beauty of these plans is that you choose when you train.
About me
A former international swimmer, husband, father, researcher, sports nutritionist, swim coach, triathlon coach and triathlete since 2007.  I completed multiple full distance and half distance triathlons around Europe.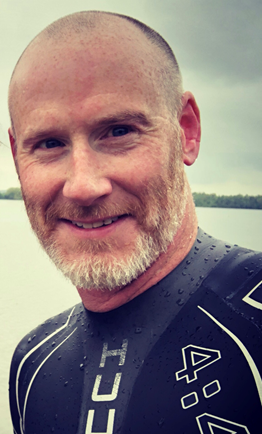 BSc and PhD in Chemistry (University College Dublin, IRL)
MSc in Human Movement Science specialising in exercise physiology and nutrition to fuel sports performance (Maastricht University, NLD). Research collaboration with the Dutch Triathlon Federation.
IRONMAN Certified Coach
"I met David for the first time at the 2017 IRONMAN Maastricht. I was doing the bike segment as part of a relay team whilst he was doing the full distance himself! I found it such a nice experience that I decided to start with triathlon myself. First year I just did my own thing, without coach, so you can imagine my preparation was not very ideal for my first 70.3 having never even done a brick session in training before the race. The year after I learned that David was a coach and decided I needed one if I wanted to do the full distance. At first I thought the training speeds were too slow (a lot of Zone 2). Now I realise this is a very important step in establishing a proper baseline! I could have never finished a full distance without his help. Training plans were always there on time and him watching and commenting on my trainings made sure I kept going till I reached my goal. Through Primal Endurance Coaching I also met some other great people and athletes and we even established a morning swim routine outdoors in de Maas in spring and summer. Thanks again David for your guidance and help!!"
"In a world where travel, shift work and lack of an overall routine are a daily struggle, preparing for a triathlon is something that one might probably need thorough guidance with – especially as a newbie to the sport! The key aspects of David's training program are flexibility, attention to the athlete's personal/social needs and patience, which is what prompted me to join his team. In 2018, I decided to train for my first IM 70.3…being a stubborn human, I did that by myself. However, I was lucky enough to already know David on a personal level; he did not shy away from dropping tips and tricks on-the-go, which helped me to survive the race and finish with a (kind of) smile. Following this event, I officially joined the Primal Endurance team, and the learning and performance curve spiked! David is an all-round professional, always exploring the nuances of sports science for himself and sharing/applying his discoveries with his athletes. Aside from developing a well-structured and tailored program, he is also very understanding of a person's needs and weaknesses, and will always help you tackle them.  Last, but definitely not least, the main perk of being part of such a team as a busy professional: you will never be alone. Your questions will be answered, your worries will be addressed and you will always have a training buddy! Above all, the Primal Endurance family brings the sport back to what it should be: FUN!
" Very good coach! David helped me with planning my training around my "crazy" work shifts and was very flexible, open, honest and reliable. I could contact him if needed. I was super happy with my results (finished 3rd female in one local race and 10th in my age-group at Challenge Almere full dsistance race in 2019"
"Since 1.5 years David has been my coach. My initial goal was to finish the IRONMAN Maastricht in 2018.  David explained to me well and clearly what I could expect from him and what I had to do to achieve my goal.  David has a personal approach, which means that his training sessions fit in well with your personal situation/condition. Due to my irregular work hours and family life I demanded a lot of Davids patience and flexibility. Always positive and motivating but also willing to stop me if I wanted to do too much.  The communication was usually by phone because we do not live in the same city, but that always went well and he took the time for questions and advice. His approach, training diversity and structure have worked very well, resulting in me achieving my goal. After this event I focussed on the Rotterdam Marathon. The adjustments made by David to my training schedules worked out well again, I finished the marathon in a time that is wonderful to me. In the meantime I have introduced David to some friends and colleagues whao are now pursuiong their goals under his supervision. And by looking at their smiles and results, they will succeed. In short; I recommmend David to everyone!"
"When I contacted David to find out about coaching for a beginner like me, for an Ironman 5150, I had no idea if I would like it or even be able to manage it with my busy work and home schedule. David took the time to talk me through it all before I committed and adapted my schedule whenever necessary. I am now completely hooked on triathlon, thanks to his support and the triathlon experience in general. I have grown from attempting to do a first 5150 triathlon to working towards the 70.3 Ironman in 2021. It has been an incredible journey so far and I am still improving, month by month! I would not have been able to come so far without David's well-balanced training plans, advice and guidance."
"I started training with David after I just finished my first marathon as part of an IRONMAN relay team, wanting to move on to an individual IRONMAN 70.3 and/or full IRONMAN. After a face-to face meeting to determine the goals/limitations/experience etc. David explained clearly how he works and what to expect from his training plan. He is very flexible when it comes to planning the training sessions around my lifestyle, which is quite irregular and not necessarily suited to a "standard' training plan. He also helped me improve my swimming technique in a few pool sessions.  David ia always quickly available to answer questions or discuss things, communicates clearly and also isn't afraid to tell me when to back off training or skip an event. I have now finished 2x IM70.3 and am well underway to competing in my first full IM. I would definitely state that I would not have been able to achieve these results without David's coaching and guidance and I would recommend him to anyone looking for a triathlon coach. "
"In February 2017 I was just able to swim 50m freestyle. August 6, 2017, I swam 3.8 km non-stop freestyle during the IRONMAN Maastricht 2017 edition as a team member of the relay TriNation. How I did? I hired David Cummins from Primal Endurance Coaching  as my coach. Due to his balanced training programs, swim technique advice, motivation and realistic targets, I was able to perform in this way. So, if you are looking for a great coach for your own challenges, I can recommend Primal Endurance Coaching as your coach. Thanks David"
"David guided me with professionalism and experience to my first Olympic distance and my first IRONMAN 70.3. Coming from an Interval training and Strength training background, David took me to a level required to compete in endurance events. I noticed huge improvements and enjoyed very much the experience under his guidance."
who i'm working with
partners